Featuring an unusual wooden frame, this Second World War bomber has a track record for hitting top speeds on decisive wartime missions and mapping out Canada's northernmost reaches. Come wing-to-wing with an action-packed legend of aviation's past!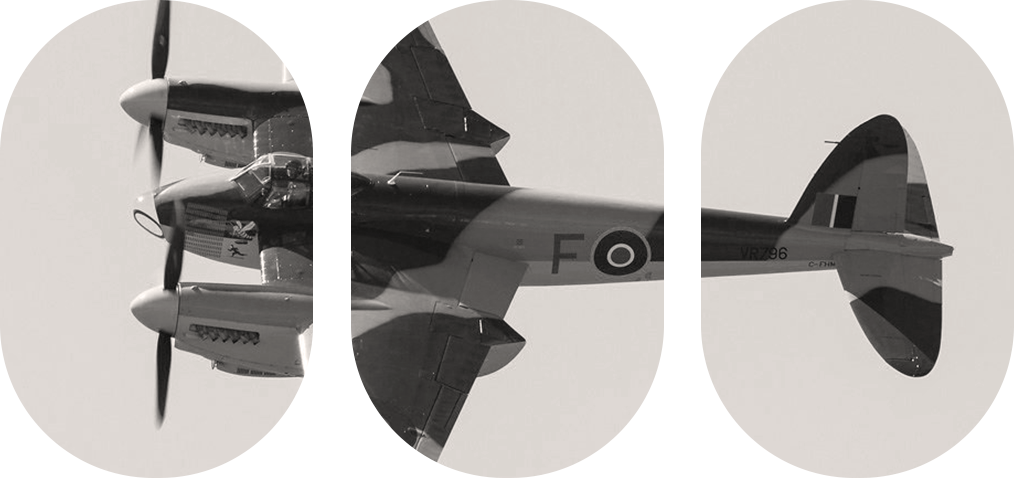 A British designed twin-engine, two-seat, mid-wing bomber, the de Havilland Mosquito or "Mossie" made its debut with the Royal Air Force in 1941. It was used extensively as an Allied night-fighter against the German Luftwaffe and quickly became one of the fastest operational aircraft in the world, clocking speeds over 640KMH.
Across European, Mediterranean, and Italian theatres of war, the Mosquito proved to be exceptionally versatile. It served as a bomber, fighter, night-fighter, photo reconnaissance plane, and even provided wartime cargo and passenger connections through enemy territory. A total of 7,781 aircraft were built, including 1076 in Downsview, Ontario.
The Mosquito is an exceptionally unique aircraft, as its frame was constructed mostly of wood, giving it the nickname "Wooden Wonder". The reason behind its wooden bones lies mainly in the distrust between British Air Ministry brass and the Mosquito's designer, Geoffrey de Havilland. The powers that be had such little faith in de Havilland's design, they refused to provide the valuable aluminum needed for its construction. This didn't discourage de Havilland, who instead opted to construct the aircraft out of wood. He also had the luxury of a large, skilled labour force, as most woodworkers had not been consumed by the war machine, unlike metal workers, who were in extremely high demand. The project went ahead, and by 1941, the Mosquito was one of the fastest operational aircraft in the world.
The Mossie's unique wooden design also proved to be stunningly resilient to flak and light anti-aircraft ammunition. Crews often came back from missions in much better shape due to the tremendous amount of damage the plane could take and still remain airworthy.
Of the 30 Mosquitos remaining worldwide, only a handful are still deemed airworthy—including aircraft no. VR796, the one seen here at the The Centre for Excellence. It also has an exceptionally Canadian connection, as not only does it have original BC Sitka Spruce running through its bones, but it was one of many Mosquitos operated by Spartan Air Services in the 1950's and 60's to conduct high altitude aerial cartography missions all over the Americas.
More recently, the Mosquito has undergone a five-year restoration project completed by Victoria Air Maintenance. The restoration was led by Aircraft Maintenance Engineer and Pilot, Mel Johnstone (on behalf of Robert Jens) and was made into a documentary film for the Knowledge Network. This Mosquito boasts a Merlin 114A fuel-injected engine, and is completely operational and airworthy.
Look carefully —you'll notice Mosquito VR796 bears a single 'F', a salute to 'Freddie' the legendary Mosquito LR503 that survived 213 operations over occupied Europe —more ops than any other allied bomber during the Second World War. Tragically, the aircraft was lost on a VE celebration in Calgary, Canada on May 10, 1945.