The biggest piston-powered fighter of its day, the Hawker Tempest MKII was built for incredible near-jet speed. While it didn't roll off the factory floor until the close of the Second World War, it captured the wonder and fascination of generations to come. Through a ground-breaking restoration by KF Centre for Excellence, MW 376 will preparing to take to the skies in its RAF colours.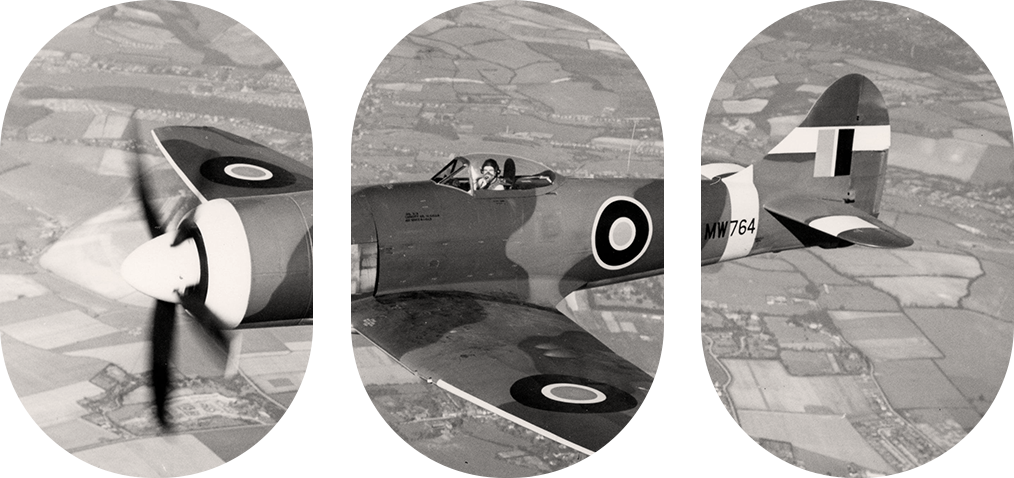 An iconic Second World War purpose-built fighter, the Hawker Tempest proved to be an incredibly valuable multi-role aircraft throughout the war. The Tempest was developed for operating as a fighter and was exceedingly fast for its day. However, it also had the ability to carry heavy armaments such as rockets and bombs, unlike other fighters of the era, such as the Spitfire and Hurricane, which were designed to fight only with the guns they had. As a result of these capabilities, the Tempest Mark 2 was a direct developmental link to the legendary Hawker Sea Fury.
There were six marks of Tempests built, of which the Tempest Mark 5 was the most widely used and built. The one seen here (MW 376) is a Tempest Mark 2, which was used far less due to its production being delayed and completed late in the war, by which time hostilities in Europe had largely ended. The delayed production was due largely to the Tempest's Bristol Centaurus engine being used in other aircraft, slowing down the Tempest's production.
After the war, MW 376 was purchased by the Royal Indian Airforce. Prior to arriving in India, MW 376 was "tropicalized", which included modifications that allowed the aircraft to operate in higher concentrations of sand, particulate matter, salt, etc. Modifications included a specialized filtration system and survival equipment in the case of a crash landing in tropical settings.
MW 376 was then sold and went through multiple owners, until KF Centre for Excellence owner and founder, Barry Lapointe, bought it from a seller in New Zealand. Laying in pieces, the aircraft was in rough shape and was shipped to Canada in several containers.
KF Centre for Excellence Restoration Project began in 2014, after purchasing MW 376 Barry made plans to restore the aircraft to airworthy condition. An early decision was made to replace the original Bristol Centaurus engine with a R2800 CA-3 from a Canadair CL-215. This was done due to the questionable reliability of the original Centaurus engine. The decision to replace the original engine was not taken lightly, however the restoration team wanted to prioritize the aircraft's airworthiness and safety.
"When I was 8 years old, I had a collection of small metal airplanes made by British toy maker, Dinky Toys. One of those aircraft was a Tempest MKII," he says. "I had it for years and then forgot about it until I found myself in an old hangar in New Zealand…that's where I spotted it."
Barry had stumbled upon the life-size components of his childhood toy. "I studied the parts and history. With only eight remaining in the world (none flying), I thought it would be a great project for the Centre, so that's when I acquired her."
The restoration project is in the final stretch as it prepares to fly in 2023. "It's a flight that hasn't taken place since I was 8 years old with the model."