This propeller-driven airliner had a lasting effect on the airline industry in the 1930s to 1940s and the Second World War. The 'Odyssey' tells a lively story of a trip around the world for Expo 86' flown by pilot and KF Centre for Excellence founder Barry Lapointe.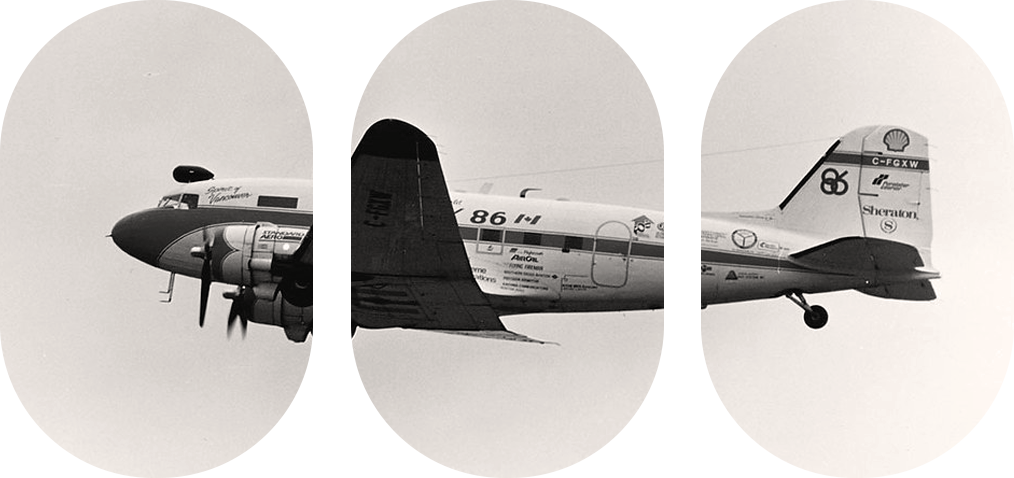 A true workhorse, the DC-3 has been a versatile aircraft for both military and civilian operations for over 85 years.
Prior to becoming a vital aircraft in the Second World War, the DC-3 was designed to haul passengers. This particular DC-3 flew during the war as part of the West Coast Air Command. After the war, the aircraft was transferred to Canadair and flew with Trans-Canada Airlines until the late 1950s. From there, the aircraft was acquired by Transport Canada and flew as an airway calibrator.
The aircraft was then acquired by KF Centre for Excellence owner and founder, Barry Lapointe. Lapointe flew the plane around the world to celebrate both the 50th anniversary of the DC-3 and the World's Fair being held in Vancouver in 1986. The aircraft visited 55 cities in 28 countries, accumulating over 280 hours of trouble-free flying over a two-month period. By the time they completed the tour, the Odyssey was covered with a mosaic of stickers from ports-of-call in California, Hawaii, Australia, the Philippines, Singapore, Thailand, India, Saudi Arabia, Egypt, Greece, Italy, Poland, Norway, Germany and England.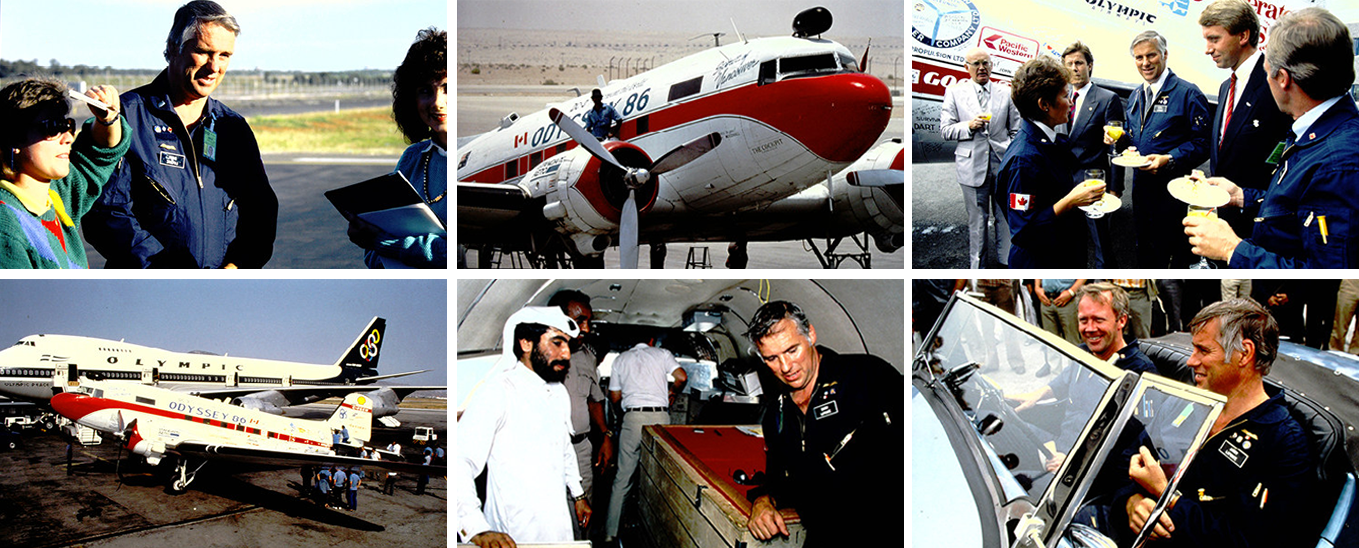 During the war, a few nicknames for DC-3s/C-47s emerged. The American military officials called them their 'Skytrains', while the Australians and British called them 'Dakotas'. To the servicemen themselves, they were 'Gooney Birds'.  But when Barry flew this DC-3 around the world, it became known as 'Odyssey 86' or simply 'The Odyssey'.
In the 1990s, Barry sold the DC-3. Over the years he came to miss the plane, and in 2021, Barry was finally reunited with the DC-3 and brought it back to KF Centre for Excellence.
The aircraft is in the process of being restored to its former glory. The DC-3 is powered by a Pratt & Whitney R-1830 engine making approximately 1100 horsepower per side, and spins Hamilton Standard 23E50 propellors.