The KF Centre for Excellence
With stunning curves, awe-inspiring views and incomparable attention to detail, the KF Centre for Excellence is a magnificent feat of engineering and design. The perfect vessel to deliver an immersive aviation experience.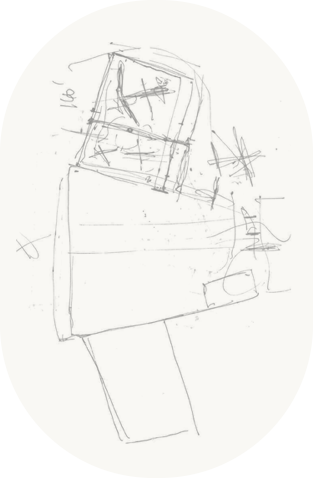 The vision for the Centre's iconic structure all started with a simple napkin sketch by KF Centre for Excellence founder and aviation enthusiast, Barry Lapointe. His vision landed on two key requirements: the building should be made with local wood product—and it should look and feel like an airplane.
BARRY'S LEGACY: A LIFELONG PASSION FOR AVIATION
On March 25, 1970 in a field beside the Kelowna Airport, Barry Lapointe established an aircraft repair company — just him and his dog, with a big dream and a love for aviation. Over the past five decades, Barry has grown that company into a world-renowned leader in aircraft maintenance, engineering, flight operations, leasing, military pilot training and defence programs. From pilot and aircraft mechanic to industry titan, click here to learn more about Barry's story.

Purpose
To celebrate KF's 50+ year journey, while connecting people with the story of aviation throughout the Okanagan, B.C. and beyond.

Inspiration
The building's design is inspired by the classic design of historic aircraft like the Spitfire.

DEVELOPMENT
Showcase local design expertise and materials—the entire building is sourced and manufactured from within B.C.



Barry's big vision comes to life in a tremendous showcase of home-grown expertise and materials.
NOV 2020
City of Kelowna awards development permit in Nov 2020
MAR 2021
Construction of the Centre began on The Centre's 51st birthday
MAR 2021
The Centre receives federal grant through Wood Program
2021
Installation of Queen Posts Completed
2021
Installation of Glass Doors Completed
AUG 2022
Expected completion and opening date
The KF Centre for Excellence project team, led by BC's top architectural (Meiklejohn Architects), engineering (StructureCraft ) and construction (Sawchuk Developments) firms, delivers never before seen innovations in mass timber construction.





Born from an idea sketched on a napkin by KF Centre for Excellence founder Barry Lapointe, The Centre for Excellence is the perfect combination of tradition and technology. Featuring state-of-the-art construction techniques such as CRT (cross-laminated timber), glue-laminated timber trusses to create the look and feel of a plane, and a roof designed to collect rainwater, the Centre showcases made in BC wood and an iconic, innovative structural design.
Envisioned to celebrate KF's 50+ year history of aviation and provide an immersive experience, the Centre offers something for everyone – from holographic media to flight simulators, a conference centre, an airfield viewing gallery, an exhibition space with access to view some of history's greatest aircraft, and the ability to host tours and educational programs.
The KF Centre for Excellence is a marvel of design, a nod to tradition, and an immersive educational aviation centre inspired by aeronautical engineering.

View The Presentation
"Along with its signature roof, the facility features what will likely be a world-first doubly-curved, self-supporting CLT Staircase descending to the Centre's main lobby."

Cross-laminated timber (CLT) form load-bearing walls and a floating staircase

Naturally: Wood
"DLT roof trusses were curved by arching the panels over two central supports, before locking in the curvature with steel cables and steel queen posts on the ground. All 53 trusses were then craned into place, resulting in an efficient and elegant roof structure, which is also intended to mimic the fuselage of a plane."

Dowel-laminated timber (DLT) form roof and floor decking

Structure Craft
"The building showcases the latest in structural innovation and mass timber construction throughout the superstructure. From wing-shaped hangar roofs to a highly unique doubly-curved CLT staircase, a creative approach to structural engineering was pivotal to the design of this project."

Glue-laminated timber (GLT) serve as load-bearing ribbed trusses

Lucas Epp, P.Eng StructureCraft

Using a special application of timber concrete composite (TCC), the structure is comprised of doubly curved CLT with a concrete topping throughout the full spiral.
Front 'spar' trusses and rib trusses form the wing-shaped roofs, which have the exact same profile as Spitfire wings, in a nod to aeronautical engineering and aircraft wings of the past.
Tying it all together, a mass-timber installation stands proudly as the tail of the Centre, encompassing a patio lounge for visitors. Accessible from the Centre's upper level or the rear ground-level staircase, this all-weather space offers a 45-seat capacity.
Glass & Steel Frame Doors
Folding glass hangar doors make a 115' clear span to allow aircraft such as the Convair CV580 and the DC10 to enter the hangars.
Make your way to the Centre's upper balcony, where you'll find front row seats to the runway of one of Canada's busiest airports.


Step inside the world's first mass-timber building shaped like a classic airplane. The Centre is a ground-breaking achievement in mass timber design that promises to wow visitors with its stunning curves, awe-inspiring views and incomparable attention to detail. Aviation spills into every inch of the building.