Kelowna's KF Centre for Excellence acquires one of the last de Havilland Mosquitos
The KF Aerospace Centre for Excellence (opening later this year) is excited to announce a de Havilland 98 Mosquito will soon be joining its star-studded cast of classic aircraft. Affectionately known as 'Mossie' or 'the Wooden Wonder' this WW2 fighter-bomber boasts an unusual wooden frame. With a track record for hitting top speeds on decisive wartime missions and flying high in Canadian skies, the Mosquito will bring audiences wing-to-wing with an action-packed icon of aviation's past.
The Mosquito: A WW2 Beast of Flight
A British designed twin-engine, two-seat, mid-wing bomber, the de Havilland Mosquito made its debut with the Royal Air Force in 1941. It was used extensively as an Allied night-fighter against the German Luftwaffe and quickly became one of the fastest operational aircraft in the world, clocking speeds over 640km per hour.
Across European, Mediterranean, and Italian theatres of war the Mosquito proved to be exceptionally versatile. It served as a bomber, fighter, night-fighter, photo reconnaissance plane, and even provided wartime cargo and passenger connections through enemy territory. A total of 7,781 aircraft were built.
KF Project Supervisor, D'Arcy Barker says it played a vital role in the Allied Victory.
"The Mossie was an incredibly potent aircraft. It could pack a similar bomb load as a B17 and fight in any theatre at any time of day or night, at high or low altitude. It was truly a multi-role aircraft, at home in seemingly any operation. That's what made it so special. Without it, where would we be? Thankfully, we'll never know."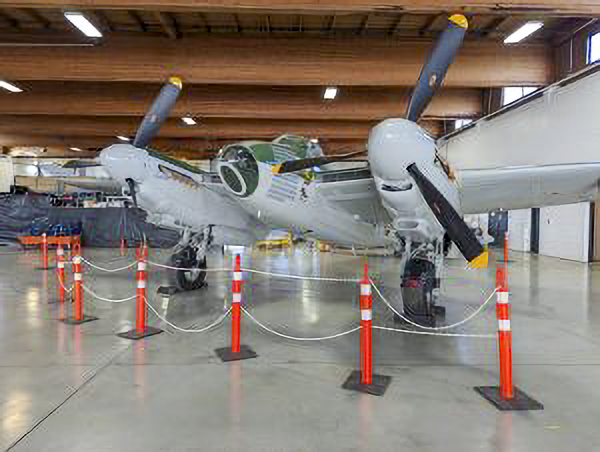 VR796: A Canadian Pioneer
Of the 30 Mosquitos remaining worldwide, only a handful are still deemed airworthy—and one of those is coming to the Centre for Excellence. Aircraft no. VR796 has an exceptionally Canadian connection. Not only does it have original BC Sitka Spruce running through its bones, but it was one of many Mosquitos operated by Spartan Air Services in the 1950's and 60's to conduct high altitude aerial cartography missions all over Canada.
"It tells an absolutely amazing Canadian story," says Executive Director, Paula Quinn. "The aircraft flew around the country for years, mapping out the northernmost reaches of the landscape in a way that was never before possible."
Restored and Reborn
The Mosquito will arrive at the Centre for Excellence camera-ready thanks to a five-year restoration project completed by Victoria Air Maintenance. The restoration was led by Aircraft Maintenance Engineer and Pilot, Mel Johnstone (on behalf of Robert Jens) and was made into a documentary film for the Knowledge Network. Johnstone has been with the aircraft since 2009 and will be accompanying it to the Okanagan. "He is excited to work with us going forward so we can glean as much knowledge as we can," says Quinn.
Impressively, the restoration features all original wood, except for new bomb bay doors custom-manufactured in New Zealand.
"A lot of effort was made to maintain the original wooden structure," says Barker. "The restoration team was very careful to ensure no aircraft were cannibalized. Parts were only harvested from other Mosquito aircraft if they were beyond salvaging."
A Living Legacy
The mid-size Mosquito will round out the Centre's warplane exhibit, nestled between the robust DC-3 and svelte Hawker Tempest MKII. As with the other warplanes, the Mosquito is intended to be a live display.
"The goal is to have it flying," says Quinn. "There are only a few pilots in the world who can fly this aircraft and one of them has agreed to fly it here for us."
Currently stationed in Vancouver, the Mosquito prepares for a bold new mission in the Okanagan Valley in a role that will pique the imaginations of generations to come.

Learn all about the restoration of VR796 in the Knowledge Network's documentary film "Gaining Altitude: The Mosquito Reborn"